May 6th, 2023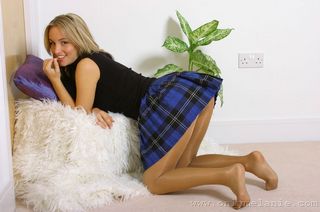 Hey, guys sorry I'm a day late. Things were a little crazy yesterday to say the least. I was so busy running around, I just had no time. I hope you'll come to forgive me one day. Maybe another erotic gallery?
I'm not sure what to call this outfit. I have the tartan skirt on so it could be college uniform. But the tight black top doesn't really go with the college uniform. And then you have my pantyhose and cotton panties. But I guess I should stop trying to categorize it as long as it's sexy.
You can see all my sexy outfits at Only Melanie, my personal website where you can find all my photos and pictures. Someone asked me how many photos and videos I have on my website. I have no idea. I couldn't even tell you how many sets or galleries I have. It's amazing that it's grown so large and that you guys love "lil ol' me."
Well, since I'm a day late. I'll see you tomorrow with another peek at my photos and videos.